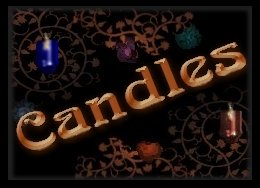 Each of our spell candles is handmade.
Infused with herbs, oils and of course magick.
We the Owners of "The Occult Shop" hand make
these candles right in our own kitchen. That's over 20
years of magickal expertise! You will feel the difference.
We choose to votives as the receptacle for our magickal candles.
Votives burn for approximately 14 hours, and leave little to no mess.
Above is a sample of our love candles. We make love candles during the waxing to full moon phase with moon in Libra, or in Taurus (both are ruled by the planet Venus). The wax is melted, colored, then we add herbs and oils. Once the candle has been "topped off" we affix decorative herbs into the top. The love candle comes with rose buds. Appropriate sigils and magickal symbols are then carved into the candle to add power and intent.
Love & Romance Candles

Love: For attracting a new romantic partner. You can specify in your spell what they will be like.
Lust: For attracting a new sexual partner. Someone with similiar sexual appetites.
Marriage: Burn to attract a proposal of marriage. Get them to commit, or attract a life mate.
Spice: To bring life back to a dull sexual relationship. Get ready for some fun!
Good-Bye: For help in releasing an expired relationship. Ease pain, let go, get closure.
Dream Lover: Burn for attracting a very romantic, soft and kind lover. Let your imagination go!
$3.95 Add
Bring Past Back: Burn to invoke the enegies of a past lover. Bring them back or someone like them.
Gypsy Coin Lover: Bring into your life a lover with good finances and a stable job who is responsible and honest.
SoulMate: For that true love you feel you have always know even though you just met. Magickal!
Money and Fetility Candles
Quick Money : Burn to attract a lump sum of quick money. You specify the amount.
Good Job: Burn to attract a job you'll love. Empower specific goals, as you look for work.
Fertility: Burn for luck in getting pregnant. Also jump over a broom with your mate!
New Business: Burn to bring in new busniess, and clients. Works like a charm!
Gamblers: Burn before gambling, place on top of lotto tickets, or write out a spell!
Check Balance: Burn for needed luck in balancing out check books and bills. Added money is sure to come!
$3.95 Add
Debts Paid: Burn to encourage those who owe you money to pay up!
Treasure: Burn to speed up money form inheritance or loans.


Promotion: Burn this candle to sway the powers that be into giving you that much needed promotion.
Health & Wellness
Healing: Burn to bring general healing energies.
Cold/Flu: Burn to end a cold or a flu.
Cronic Healing: Burn to ease constant nagging pain.
Reiki Bliss: Candles attuned by a Reiki Master Teacher. Burn for all types of illness including mental and emotional!
Stop A Habit: Quit any unhealthy addictive habit such as smoking, or working too much.
Anti-Stress: Burn to ease cronic fatigue, irritation and annoying stress.Breath- Relax.
$3.95 Add
Anti-Depression: Burn this candle to ease depression and bring into your life joyous situations.
Medicine Woman: Made from an old recipe including sage, damiana, and wormwood. This candle is sure to cure what ails you.

Balance: Burn this candle to help you create balance. Can be used for diet, exersice or lifestyle changes.
Misc. Spell Candles

Beauty: Burn to bring out hidden beauty, enhance finer qualities, and turn heads!
Weight Loss: Burn to lose undesired pounds. Works best in conjunction with a lifestyle change.
Justice: Burn to get justice in any legal situation. Karma invoker. Brings justic to all- especially you.
Moon Goddess: Burn to invoke the Goddess into your life or into any ritual. Moon mysteries.
Sun God: Invoke the energy of the Sun God into your life or into any ritual. Brings light and energy!
House: Burn to get the house of your dreams, or sell a home of your own.
$3.95 Add
Family Harmony: Burn to bring peace and love into any family situation. Works well with uncontrollable teens.
Cleansing: Burn to cleanse any space of bad memories and negative energy.

Banishing: Stronger than the cleansing candle, butrn to rid a space of ghosts, and unfriendly vibes.