21 Lessons of Merlyn by Monroe, Douglas
For those with an inner drive to touch genuine Druidism, or who feel that the lore of King Arthur touches them personally, this book will come as an engrossing adventure and psychological journey into history and magic. Here is a masterful reconstruction of Celtic mythology and Arthurian legend combined into a program of practical instruction in mythical thinking and magical techniques. This is a complete introductory course in Celtic Druidism, packaged within the framework of 21 authentic and expanded story-lessons. These stories depict the training and initiation of the historic "King" Arthur by the authentic Merlyn-the-Druid. Each story is followed by a detailed ritual application of the key concept behind Merlyn's lesson. As you follow Arthur's apprenticeship from his first encounter with Merlyn in the woods at Tintagel, through his battles and vision quests, to his anointing as Priest-King of Britain at Stonehenge, you will be studying your own program of druid teachings based on the actual, never-before-published 16th century manuscript entitled The Book of Pheryllt. 418 pgs.

$15.95 Add


Be A Goddess!
by De Grandis, Francesca
The author, a Celtic Shaman in the Faerie Tradition, presents a playful, practical guide to the Goddess Magic of Celtic Shamanism. With this book, anyone can acquire the wild, natural power of Goddess Spirituality by learning to use the simple, potent magic of the Faerie Folk. Learn how to cast spells for the good things in life; gain the passion, sensuality & unique individuality of Celtic Shamanism; get just about anything you want by using The Spell Itself; & much more. Paperback, 312 pages.
$14.95 Add


Celtic Body Art by Marron,Aileen
Create beautiful, fun and exciting tatoos that are neither painful nor permanent. Celtic Body Art will show you how to apply temporary body paints, inks, dyes and henna to create designs that last as little as a few hours or as long as several weeks. Impress your freinds with colorful mythical animals, bold Celtic patterns and intricate figurines based on ancient designs from sources that include the famous Book of Kells. Use the step-by-step instructions and the transfers included with the book to get started. Then try one of the variations Aileen suggests, or create your own freehand designs. Paperback, 63 pages

$10.95 Add


Celtic Borders, Plastic Stencils
by Spinhoven, Co
Here are three sturdy, reusable 7 1/4" by 10 3/8" clear blue plastic stencils manufactured of strong 7 mil. vinyl for extra durability and ease of use. The clear blue plastic enables you to see through the stencils for exact placement and keeps them visible even against light colored backgrounds. Use these beautiful designs on walls, doors, furinture, fabric and other items and accessories. 4 stencils on 3 plastic sheets. Instructions included.
$9.95 Add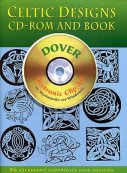 Celtic Design Cd-ROM & Book
by Dover
Artists and craftspeople who want to enhance their peojects with the magic of Celtic design will welcome this treasury of attractive motifs. This Dover Electronic Clip set contains: *One CD-ROM containing 96 high-quality black-and-white graphics scanned at 600 DPI and saved in six different formats (TIFF, PICT, WMF, JPEG, GIF and BMP). *A large-format 64 pages book with every image on the CD-ROM printed large and clearly on one side of the page only for easy reference and direct cut-and-paste use. Included are 96 different copyright-free designs by Mallory Pearce featuring the sinuous interlacements, stylized mythical creatures, abstracts, geometerics and other elements that give Celtic art its distinctive look. Dover Electronic Clip Art can be used with any Macintosh or Windows compatible computer with a CD-ROM drive and 5MB of RAM.
$9.95 Add


Celtic Gods, Celtic Goddesses
by Stewart, R.J.
Many of the beliefs and customs of the ancient Celts persist even today in Western culture. They survive in curious and often surprising ways within folk tradition. In Celtic Gods, Celtic Goddesses Bob Stewart takes a penetrating and detailed look at the mythology, magic and religion of the Celts and examines their enduring strengths and their continued relevance. Bob Stewart's examination of the complex and fluid relationship between the gods as people, as symbols of nature and as sacred powers makes Celtic Gods, Celtic Goddesses a fascinating and invaluable source of reference. Paperback, 153 pages
$18.95 Add


Celtic Magic
by Conway, D.J.
Celtic Magic is an ancient practice firmly rooted in the Celtic pantheon, Nature and the Elements. Included in this book are the various methods of spellwork, ritual, meditation and divination that can help you influence or even change certain aspects of your life. Learn how to: *gain money *gain love *gain protection *gain prophecies *rid yourself of negatives *bind a trouble-maker *strengthen your psychic shield *promote physical, mental and spiritual health Paperback, 202 pages
$4.99Add


Celtic & Medieval Fonts CD-ROM
by Dover
This cornucopia of 24 distinctive Celtic and medieval fonts offers designers, graphic artists, and craftspeople a virtually unlimited supply of attractive, eye-catching typefaces ranging from the simple and unadorned to the highly ornamental. Assembled by noted typographer and type historian Dan X. Solo and ready to use in convienent CD-Rom and book format, the fonts include Anglo Text, Colchesster Black, Cimbrian, King's Cross, Yonkers, and many more. Included in this Dover Electronic Display Font set are: *One CD-ROM containing 24 different, fully scalable complete fonts in True Type and Postscript Type 1 formats. Most include both upper- and lower-case alphabets; many also include numbers. *A 48 page book showing every image on the CD-ROM printed large and clearly for easy reference. Perfect for lending Celtic charm and medieval ambience to signs, greeting cards, stationary, menus, and a host of other graphic undertakings, these copyright-free fonts also work well in a wide variety of craft projects. Dover Electronic Clip Art can be used with any Macintosh or Windows compatible computers with a CD-ROM drive and 5 MB of RAM.
$14.95 Add


Celtic Stained Glass Pattern
by Pearce, Mallory
Stained glass artisans will welcome this practical treasury of designs incorporating the timeless beauty of Celtic art and ornamentation. Striking figures of the gospel authors adapted from the book of Kells, abstract designs sinuous snakes and fish, stylized birds, and improbable for-legged creatures. All reworked from a host of authentic sources comprise the 91 inventive motifs in the collection.
$8.95 Add


Celtic Tattoos (10)
There's instant fun for tattoo fans of all ages in this striking collection of eye-catching designs. Ten beautifully rendered motifs display all the mystery and beauty of ancient Celtic art. Patterns include intricate weaves and interlaced spirals as well as a variety of mythical and real animal figures - a wolf, hound, dragon, birds, a mermaid and more. To use, simply apply the tattoo to the skin, moisten and peel off the paper backing. Celtic Tattoos are safe and easily removable. Instructions included.
$1.75 Add


Celtic Traditions
by Knight, Sirona
Across the breadth of America today there is renewed fascination with all things Celtic -- lore, traditions, beliefs, & customs. More than forty percent of North Americans are of Celtic ancestry, & they often wish to reaffirm their ancestral roots & bring Celtic myth, legend, & modern practices to life. For others the Celtic traditions embody myth, mystery, & magic. This book satisfies the desires of all: it discusses everything from ancient Druids & faery traditions, right up to the beliefs & practices of today's neo-Pagans. Tales of Celtic goddesses & gods, & the stories of their descendants, thrive in the pages of this fascinating book. Focusing upon Celtic roots, goddesses, gods, & the Druids, as well as the Underworld of the faeries, & modern Celtic Wicca, Celtic Traditions provides hands-on ways for making a positive difference in the world today, & for thousands of years to come. Softcover, 225 pgs
$12.95 Add


Celtic Wonder Tales
Loved by both children and adults, these 14 enchanting stories are filled with sly charm, whimsy, and fights of fancy that give Celtic folklore its special appeal among the tales. Retold here in wonderful poetic prose are the Earth Shapers, The Spear of Victory, The Cow of Plenty, The Great Battle, The Golden Fly, The Children of Lir, and eight others. Imaginatively illustrated by noted Irish artist, and patriot Maud Gone, these exciting narratives of grand goings-on in the twilit world of Celtic magic and legend will be a welcome addition to any young reader's personal bookshelf.
$7.95 Add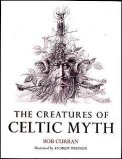 Creatures of Celtic Myth
by Curran, Bob
It is the explanation and celebration of those wonderfully strange creatures and entities that inspire the writing and lecture work of Dr Bob Curran, in the pages of this book he not only provides a full historical, cultural and geographical backdrop to the inhabitants of these ever powerful myths, but also retells selected tales from each tradition, bringing to life each archetype in a vivid authentic, and entertaining way.
$29.95 Add

Dark Spirit by Curran, Bob
Sinister Portraits from Celtic Folklore: Whilst much of early Celtic belief involved concepts & activities which could benefit society -- rituals which caused crops to grow & both human & animal fertility -- there is also a part of the Celtic mind which is fascinated with the darker side of things. Indeed, Celtic folklore is filled with glimpses & aspects of it: malevolent spirits, malignant fairies, unquiet & often hostile dead who hated the living with a fierce passion, & highly unsocial folk who acquired dark & supernatural powers often used against their neighbors. So, what is this spirit that underlies much of Western history & society, culturally, politically, at its deepest, most primeval level? This fascinating & groundbreaking work examines these strange phenomena via its traditions & their roots in Celtic belief & by looking at some of the striking individuals who embodied them. From the legion of examples, the very flavor of the dark spirit is captured in these pages by describing those who have been "in touch" with the underlying Celtic darkness & who have impinged upon literature, history & folklore. It covers a broad geographical range -- from Celtic Britain into rural North America -- in order to provide a wide collection of characters who have all, in one way or another, manifested the dark spirit. So, open the book -- & prepare to experience The Dark Spirit... Hardcover, 256 pgs.
$31.95 Add


Druid Magic
by Sutton/Mann
Do you feel a connection with ancient Celtic myths and legends? Do you want to know more about the mysterious and powerful Druids, spiritual leaders of the Celts? This insightful book combines Celtic myths, knowledge of Celtic homelands, and archaeological evidence with spiritual lessons and activities. You'll learn how to: *Cast shields of protection *Expand your sacred sexuality *Create Druid magical tools *Initiate yourself as a Peregrine Druid *Journey to Otherworlds Druid Magic shows you how to incorporate the magical symbols and tools of Celtic mythology into your daily life. Let this wisdom inspire you to create positive changes as you become a Druid! Paperback, 314 pages
$15.95 Add


Exploring Celtic Druidism
by Knight, Sirona
An overflowing cauldron of information, magickal works, & Druid rituals, this is the first book to present the authentic teachings of the modern Celtic Druid tradition to a popular audience. You'll learn what Druidism is & how to practice it to achieve a more positive & enriching life. Included are easy-to-use instructions for gathering your ritual tools, choosing a craft name, personal initiation, as well as doing magickal works & celebrating the eight Great Days of the year. Honoring the Goddess & the creative, regenerative principles of nature, modern Druidism is characterized by a total refusal of duality under any of its forms. Everything is connected & part of a greater whole & Oneness. This hands-on God & Goddess training guide can help readers discover the Merlin within them. Softcover, 239 pgs.
$13.95 Add