Complete Bk Of Tarot Spreads by Burger. Try these 122 layouts, more than any other book! Start getting to know the Tarot - the symbolism of the Major and Minor Arcana, traditional interpretations of the cards. Find new ways to use individual cards - your "favorite" card, your stress card, your lucky card, your "learning assignment". Learn great techniques for putting together your personal intuitions with the age-old Tarot teachings, using many different exercises that develop your powers of association, perception, interpretation. Discover intriguing methods of combining the Tarot with astrology. Use special spreads for special purposes, such as making decisions, comparing your conscious and unconscious attitudes, examining your relationships and your life journey goals This is the Tarot book you thought you'd never find! Paperback, 172 pages.

$11.95 Add


Zodiac, Little Giant Encyclopedia by Diagram Group
The world is at your fingertips when you pick up this pocket-sized guide to astrology. Foretell your future using both Chinese and Western methods. Understand yourself and your friends when you learn the significance of your specific sign or animal year, read symbols, and interpret charts. Through these techniques you'll gain important insights into character, personality, appearance, behavior, work habits, love and sex, friends and partners, leisure interests, and health. Whether it's East or West that you subscribe to, the answers to a better-balanced life are packed into these pages. Paperback, 510 pages
$10.95 Add


Magic Circle, Occult Handbook by Nomolos, Yaj. In this book you will find the step by step procedures for successfully starting and running an occult group. Practical, level headed advice alongside the logical group dynamics that are so essential for success oriented group leader. The author has experimented and field tested his work in the sixteen years that he has been operating occult groups. Passing his secrets to you, he discusses the pros and cons of his subjects, and offers you the best of his career.

$9.95 Add

Witches' Goddess by Farrar/Farrar
This is indeed an important new work by the Farrars providing an in-depth exploration of the goddess in her many aspects at a time when Western culture is awakening to the influence of Feminine Divinity, both individually and collectively. Part I, the myriad faces of the Goddess revealed, including: *Her presence throughout history *Her Earth and Moon symbolism *Her Madonna and Magdalene disguises *Her revelation within the psyche *Her relationship with omen *Her influence today and much more Part II , ritual invocations of the goddess in 13 guises: *from Ishtar to Isis *from Hecate to Aphrodite *from Epona to Ma'at Part III, an alphabetical listing of more than 1,000 Goddesses including a brief history and the main correspondences of each. Paperback, 295 pages. (Highly Recommended! If you only own one Goddess book- this should be it.)

$18.95 Add


Woman's Ency. of Myths & Secrets by Walker, Barbara G.
The answers to countless intriguing questions (How did the custom of kissing begin? Was there really a female pope?) are given in this compulsively readable, feminist encyclopedia. Twenty-five years in preparation, this unique, comprehensive sourcebook focuses on mythology, anthropology, religion, & sexuality to uncover precisely what other encyclopedias leave out or misrepresent. This book presents the fascinating stories behind word origins, legends, superstitions, & customs. A browser's delight & an indispensable resource, it offers 1,350 entries on magic, witchcraft, fairies, elves, giants, goddesses, gods, & psychological anomalies such as demonic possession; the mystical meanings of sun, moon, earth, sea, time, & space; ideas of the soul, reincarnation, creation & doomsday; ancient & modern attitudes toward sex, prostitution, romance, rape, warfare, death & sin, and more. Tracing these concepts to their patriarchal origins, the author explores a "thousand hidden pockets of history & custom in addition to the valuable material recovered by archaeologists, orientalists, & other scholars." Not only a compendium of fascinating lore & scholarship, this is a revolutionary book that offers a rare opportunity for both women & men to see our cultural heritage in a fresh light, & draw upon the past for a more humane future. Softover, 1,121 pgs. (I own this one as well.)

$34.95 Add


Healing Craft by Farrar/Farrar
The Healing Craft is the first book to present such a wide spectrum of the healing arts especially for Witches and pagans. Highlights include: *The History of Healing Within Paganism and Witchcraft *The Aura and The Chakras *Astrology and Healing *Healing Sanctuaries *Healing Wells and Springs *The Healing Gods and Goddesses *Healing with Magic *Holistic Massage *The Tarot and Divination *Shamanistic Healing *Herbalism *Past-Life regression *The Physical Body and Mind Paperback, 256 pages

$24.95 Add


777 & Other Qabalistic Writing Crowley, Aleister. This collection of Qabalistic texts is without parallel in the history of mystical literature. Edited & introduced by Dr. Israel Regardie, the three texts included are Gematria, Sepher Sephiroth, & 777. Gematria, reprinted from "The Temple of Solomon the King," The Equinox, Vol. 1, No. 5. provides essential explanations of the oretical & practical Qabalistic number analysis & philosophy. "An Essay in Number," also included, provides invaluable insights into key numbers as well as techniques & safeguards for practical magical work. Sepher Sephiroth is a unique dictionary listing hundreds of Hebrew words arranged by numerical value. It was compiled jointly by Crowley and Allan Bennett & first appeared in The Equinox, Vol. 1, No. 8. 777 itself contains, in concise tabulated form, an overview of the symbolism of the major world religions, as well as the system of correspondence of the Hermetic Order of the Golden Dawn. In short, this is a complete magical & philosophical dictionary -- a key to all religion & practical occultism; an amazing work whose value has been recognized through many editions since its first appearance in 1909 & subsequent enlargement in 1955.

$16.95 Add


Godwin's Cabalistic Ency. by Godwin, David Godwin's is the sourcebook for magicians, scholars, cabalists and scientists of all disiplines becuase it contains listing for every possible cabalstic and gematria association, aspect, correspondance or application one may ever meet on the cosmic commutation. This third and enlarged edition features the traditional compilation of essential material and a plethora of new information you will not want to be without. *The Many Names of God *Numerous Angels *The Spirits of the Goetia *The Shem ha-Mephorash *The Correspondances of the 32 Paths *The Sinsiter Tunnels of Set *A Guide to Hebrew Pronunciation *A Complete Edition of Aleister Crowley's Sepher Sephiroth *and much more Paperback, 660 pages, plus the Sepher Sephiroth.

$32.95 Add


Modern Magick by Kraig, Donald. The ultimate High Magick Workbook! This book is one of those rareties that find their ways into publication. It contains not only information pertinent to the beginner but also the informed advanced practitioner of High Magick. Mr. Kraig has condensed years of research and practical information into one book that sublimely and succinctly relates the practical use of magick into the reader's life. Modern Magick is one of those books which any serious magician should have on his/her shelf. Paperback, 592 pages

$17.95 Add


Dream Symbols, Little Giant Encyclopedia
by Vollmar, Klass
What images recur in your dreams? Are you going on a journey? Falling into an abyss? Nude in public? Find out what your mind is trying to tell you, with this unique, up-to-date reference. You are constantly getting messages in dreams that affect your feelings and thoughts about love, success, and the future. More than 2,000 entries by a psychoanalyst and dream specialist provide expert explanations of common dream symbols and events, as well as questions for you to explore that you may never have thought of before. Often more than one choice is offered; pick the one that seems right for you, and think about the others! Paperback, 510 pages.
$11.95 Add


The Witches Bible by Farrar. Everything you need to know is here, including: The Sabbats, Casting and Banishing the Magic Circle, The Complete Book of Shadows, The Great Rite, Incantation Rites, Consecration Rites, Spells, Tools, Witchcraft and sex, Running a coven, Clairvoyance, Astral Projection. This collection includes two books in one volume, Eights Sabbats for Witches and The Witches' Way. This is the most comprehensive and revealing work on the priciples, rituals and beliefs of modern witchcraft. Includes black and white photos of magickal and skyclad rituals. Paperback, 329 pages


24.95 Add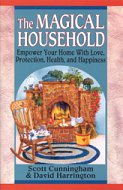 Magical Household by Cunningham. A very complete look at all aspects of setting up & maintaining a magical household. This intelligently written, simply explained book will give you a great deal of practical information on creating your own magical household. It is also a delightful compendium of bits & pieces of folklore & superstition from all parts of the world. A must-have for every dwelling, be it a grand mansion or simple apartment. Softcover, 186 pgs.

$12.95 Add


Ency. of Wicca & Witchcraft by Grimassi, Raven The A-Z of ancient & modern Witchcraft. This indispensable reference work provides both a historical & cultural foundation for modern Wicca & Witchcraft, & is the first to be written by a Craft Elder. Use this book to research any aspect of the Craft, including: Theology -- pantheons, Wiccan Rede, Three-Fold Law; History -- Craft roots & influence; Places -- historical & sacred sites; Verses, rites, & invocations; Ritual objects & tools; Influential practitioners -- past & present. This comprehensive book also contains terminology; Craft web sites, organizations & magazines. Oversized softcover, 470 pgs.

$26.95 Add


Circle Guide to Pagan Groups A Nature Spirituality Networking Sourcebook, 12th Edition, Published by Circle Celebrating 21 years of continuous publication. Listings are presented by state & country for easier networking. Resources connected with an organization are grouped together under a primary listing, & indexes for cross reference are included in the appendix along with some previous writings about Paganism, plus some new material. Spiralbound softcover, 150 pgs.

$19.95 Add


Complete Book of Incense, Oils & Brews by Cunningham. If you're feeling rigid in your spellwork, look no further than this book to zap some energy into your magic! Cunningham offers something more than a delightful compendium of recipes for everything from incense to ritual soaps to sachets--he tickles the imagination to come up with ideas even better than what he presents. Cunningham teaches that you need not have wood aloe or dittany of Crete in your magical pantry in order to work magic. Paperback, 269 pages.

$14.95 Add


Wicca, Illustrated Guide by Grist. Immerse yourself in the lore, legends, and rituals of Wicca, also known as witchcraft. Then harness their ancient magical powers and make them work for you. Meet the gods and goddesses who are active in everything we do. Uncover what it means to be a Wiccan priest or priestess. Set up a sacred space or temple. Learn what a coven is and what coven members do. Prepare for an initiation and learn to use the tools of the trade. Celebrate the Wiccan festivals of the year with this easy-to-follow guide to rituals. Everything to set out on the Wiccan path is here. Paperback, 125 pages

$16.95 Add


Witches' God by Farrar/Farrar Companion volume to The Witches' Goddess, this important work re-establishes the ancient balance between God and Goddess. Part I examines the many concepts of Go, including: *His faces throughout history *the Son/Lover God *the Vegetation God *the War God *the Anti-God *and more Part II takes a close look at 12 individual gods of history with an appropriate invoking ritual for each. Part III is a comprehensive dictionary of over 1000 gods from many world cultures, past and present. Paperback, 257 pgs.
$21.95 Add

Write Your Own Magic by Webster, Richard Create the life you've always dreamed about. This book shows you how to use the incredible magical power of words to make your dreams a reality. This guidebook presents the three magic steps essential to manifesting exactly what you want, for dreams both big & small. First, you'll learn how to determine your life's purpose. Next, find out how to write magic that makes your dreams come true in six important areas -- physical, spiritual, mental, financial, social, & intuitive. Softcover, 254 pgs.

$12.95 Add


Encyclopedia of Magical Herbs Cunningham: In days gone by our ancestors lived in harmony with the earth. They knew which plants could heal and which ones could kill. They also knew that plants harbored magical powers, forces that could be harnessed and directed to fulfill a need - anything from protecting a house to finding true love. Magical herbalsim is the use of these powers to create positive changes. This revised and updated fifteenth anniversary edition contains the folklore and magical properties of over 400 herbs. Far from concentrating on esoteric, unobtainable plants, many of those mentioned within are old friends. The magical properties of onions, cashews, apples, rice, lettuce - as well as dill, basil, fennel, garlic, and parsley are described. Extensive tables, a cross-refernce of folk names, glossary, and annotated bibliography make this a comprehensive and valuable guide to the practice of magical herbalism. Paperback, 307 pages A must have!
$14.95 Add

Complete Bk of Incense, Oils & Brews by Cunningham, Scott. If you're feeling compulsive and rigid in your spellwork, look no further than this book to zap some energy into your magic! Cunningham offers something more than a delightful compendium of recipes for everything from incense to ritual soaps to sachets--he tickles the imagination to come up with ideas even better than what he presents. His chapter on properly substituting ingredients is simply the best of its kind. Cunningham teaches that you need not have wood aloe or dittany of Crete in your magical pantry in order to work magic. Paperback, 269 pages
$ 14.95 Add

Ency. of Crystal, Gem & Metal Magic by Cunningham, Scott This book is detailed but not exhaustive. Cunningham has a way of cutting through the veils of arcane muddle and get right to the subject at hand. This is a great reference for those that wish to enter the world of gemstone, crystal and metal magic and a must for anyone that needs a reference on this subject. The description of each mineral or metals mystical properties are clearly described in enough detail to let you know what is is best suited for. The chapters preceding the descriptions are written in a simple and straight forward manner that does not favor any one religion or belief system. He lets the reader take what they need from it and apply it accordingly. Mr. Cunningham also includes a quick reference summary that is set up in a logical and easy to use format. Paperback, 240 pages.
$ 14.95 Add