Complete Bk Of Tarot Spreads by Burger. Try these 122 layouts, more than any other book! Start getting to know the Tarot - the symbolism of the Major and Minor Arcana, traditional interpretations of the cards. Find new ways to use individual cards - your "favorite" card, your stress card, your lucky card, your "learning assignment". Learn great techniques for putting together your personal intuitions with the age-old Tarot teachings, using many different exercises that develop your powers of association, perception, interpretation. Discover intriguing methods of combining the Tarot with astrology. Use special spreads for special purposes, such as making decisions, comparing your conscious and unconscious attitudes, examining your relationships and your life journey goals This is the Tarot book you thought you'd never find! Paperback, 172 pages

$11.95 Add


Pendulum Workbook
by Schirner, Markus. If you want to heal yourself - or others - how do you select the best way to go about it? A pendulum can tell you! Dozens of the most effective therapies and cures in the world are listed in this unique book, so that your pendulum can point out to you the best ones to use in every individual case. First, find out how to use the pendulum, identify its movements, and check its accuracy. Then go on to a series of detailed charts that list such complementary health and healing techniques as the chakras; Bach flowers; teas, herbs (including Chinese and Native American); color therapy; gemstones; meditation; and so much more. If it's aromatherapy you want to try, the book lists 144 different essential oils (plus basic oils), with detailed selection charts to pick the ones you'll need. Every question you might have - from the form in which to use it, the number of drops recommended, the number of times to use it and when, and how long the treatment needs to continue - is covered. And that's only the aromatherapy section! Every person who wants to use the perdulum effectively - to help and to heal - will find this book the essential resource. Paperback, 94 pages.
$16.95 Add


Pictorial Key to the Tarot by Waite. Arthur Edward Waite was a profound student of the occult. He was a member of the occult. He was a member of the Order of the Golden Dawn, and made the Tarot accessible to the modern say reader. This classic text for the Rider-Waite deck discusses: *The Major and minor arcana *What each card means *Reversed card meanings *How to do a basic reading The Pictorial Key to the Tarot is ideal for use with the Rider-Waite Tarot Deck and the Universal Waite Tarot Deck, both currently available. Paperback, 316 pages

$8.95 Add


Choice-Centered Relating & the Tarot by Fairfield, Gail. This is an important guide for using the symbols of the tarot to make relationship decisions. Once you have learned to read the cards, using your favorite deck, you'll want to go further -- to help yourself or people you know with important decisions. In order to do that, you must know the "ins & outs" of the relationship process, whether it's the most important love relationship in your life, or how to deal with an unruly child, or even how to cope with people at work. This book is filled with practical advice, thought-provoking questions, & guides to interpretation using a wide variety of sample layouts. This book will become a valued friend & advisor, one you'll keep close at hand every time you read the cards. Softcover, 335 pgs.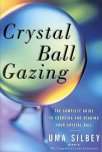 Crystal Ball Gazing
by Silbey, Uma Crystal balls can be used for far more than telling fortunes, as crystal expert Uma Silbey explains in this unique, step-by-step guide. From choosing the right ball to protecting it when not in use, Silbey shows you the myriad ways you can tap into this special - and beautiful - form of practical spirituality: *The Right Ball: How to choose among the many different - natural quartz, smoky quartz, rose quartz, amethyst, and many others - depending on your specific needs. You can even use them in combination! *Everyday Applications: How to reduce stress, make decisions, solve problems, enhance creativity, promote healing, find lost objects, send and recieve messages, and more. *The Fine Art of Interpretations: How to recognize and read symbols, ask questions and "see" clearly. *Doorways to Others Worlds: How to read the past and the future, go astral and time traveling, even meet spirit guides and angels! Above all, Silbey shows you how to keep your feet on the ground, reminding you that the crystal ball in fact reveals wisdom that you already possess. Paperback, 174 pages
$14.95 Add


Practical Guide To The Runes
by Peschel, Lisa
This ancient oracular practice has been rediscovered in the twentith century as we try to simplify our complicated existence. A Practical Guide to the Runes provides in a concise manner: *Complete descriptions of the 25 runes in divination *Four rune layouts *Istructions for making runes and accessories *Meanings and uses of the runes in Magick *Step-by-step guidelines in carving runes and creating talismans *Charging of talismans *Differences between bindrunes and runescripts Take charge of your life to make the choices and changes you desire. Paperback, 169 pages
.
Highly Recommended!
$6.95 Add


Power Tarot
by Macgregor/vega. Reading the cards has never been easier, even if you've never done a spread before! With more than 100 spreads to choose from, Power Tarot offers experienced and novice readers alike innovative and accurate ways to get answers to their most pressing questions on romance, work, finances, health, and spiritual growth. From the single card "yes/no"draw, to the comprehensive twenty-four card spread of the double horoscope, from the traditional Celtic Cross to the Past_Life Spread, you will find spreads to answer particular questions, while others describe more general situations. Writing in plain English, the authors give you information on the meaning of each card in the tarot deck (no matter which deck you use), both in general and as the card relates to specific issues.
$13.95 Add


Tarot Plain & Simple(robinwood) by Louise, Anthony. The major difficulty beginners face in reading the Tarot is the symbolism within the cards. You need to learn the basic meanings and symbolism before the Tarot can "speak" to you. Tarot Plain and Simple presents the Tarot in language that is exactly that - plain and simple - without confusing, arcane references. Plus, it is a proven method that is reliable and easy to use whether you want to do readings for yourself or others. Whether you are a beginner who is trying to uncover the Tarot's symbolism for the first time, or you are an expert using it as a handy reference guide, Tarot Plain and Simple will help you get the most from your Tarot deck. Paperback, 312 pages.

Basic Psychic Development by Friedlander/hemsher. Based heavily on the work of Lewis Bostwick, founder of the Berkeley Psychic Institute, Basic Psychic Development is a complete learning system for would-be psychics. Rather than closing oneself to outside energies, Friedlander's system encourages an open, playful approach to experiencing the energies around us with new tools like auras, chakras, and clairvoyance. Paperback, 192 pages

Tarot Spells by Renee, Janina. This book presents practical ways to create positive changes in your life using the power of the Tarot. No elaborate rituals or tools are required -- your spells can be as simple or complex as you desire. All you need is an open mind & a deck of Tarot cards to attract love & romance, improve your finances, encourage good health, enhance creativity, overcome obstacles, or develop psychic awareness. Even if you have no experience working with the Tarot, this unique book tells you how the archetypal symbols of the Tarot speak to the subconscious mind & add power to your spells. For those already familiar with the cards, this book opens new doors to knowledge & creativity. In this updated edition, the author responds to the most frequently asked questions from readers, including how to customize your spells to meet specific needs. Softcover, 294 pgs.

How To Make & Use Magic Mirror
by Tyson, Donald Awaken the ancient art of scrying through the most powerful black mirror ever designed. Its forbidding apearance has given it an unwarrented sinister reputation and even today the magic mirror remains mysterious and unknown in occult circles. Discover through making and using this potent tool the true definition of magic. How to Make and Use a Magic Mirror is a doorway to astral travel, spirit communication and the art of projecting one's will over great distances. The only complete guide to making and using a black mirror. This book contains a comprehensive history of magic mirrors from the time of the ancient Greeks to the present. This book is a must for the developing magician. Paperback, 133 pages
$10.95 Add


Tarot: Your Everyday Guide
by Renee, Janina. Every day you make choices. Some are big, some are small -- but all will affect the course of your future. The good news is that you don't have to do it alone -- the tarot can give you advice when you need it most! Reading the tarot for advice requires a different approach than reading for prediction. This book presents a new method of tarot interpretation. You'll learn how to use the tarot to help you make an informed decision & determine a course of action for just about any life situation. You can even use advice readings to augment traditional divination. This unique & practical book will open new doors of understanding & help you integrate the rich symbolism of the tarot into your daily life. Softcover, 270 pgs.
$14.95 Add


Tarot: Handbook for the Master by Connolly, Eileen . This volume is the first book in a series of handbooks for the master Tarotologist. Fully illustrated with the Connolly Tarot deck, this groundbreaking guidebook contains the results of a lifetime of the author's research into the ancient concept of the tarot. Her purpose is to aid the master student in uncovering the karmic force or purpose of intimate relationships, comprehending life's obstacles, & attaining a true understanding of one's soul & others' souls. The mysterious forces of karma are penetrated in these pages, as they unveil a unique focus on life's journey. Oversized softcover, 301 pgs.

Illustrated Guide to Divination
by Hall, Judy. Divination is ascertaining the future through insight or intuition. Divination tools provide a focus for extrasensory perception. The images used are archetypes, evocative symbols that speak to the intuitive mind. This wonderfully illustrated book is loaded with information on the various types of divination & the ways to use them. It features not only general information on divination, but also highlights several of the more popular forms of divination, ancient & modern including Mah Jonng, The Tarot, The Eye of Horus & Numerology. Guidance is here, whether you want to know the celestial forces you're under or are looking to expand your creativity. Oversized softcover, 128 pgs.
$16.95 Add


Learning the Tarot
by Bunning. A thorough-but never overwhelming-invitation to the beginner. Learn to use the tarot as a tool for inner guidance. Joan Bunning communicates the basic depth and beauty of each card, shows how the cards trigger psychological projection, enhance intution, and improve communication with your Inner Guide. Learning the Tarot is a living system that will creatively adapt to your specific needs. All that's required is an open mind and a sincere desire as you seek the deeper truths hidden in your life as reflected in the images of the tarot. Soft cover, 320 pages.
$19.95 Add

Psychic tools can be found on the Divination Main Page.
Back to the Reading Room.